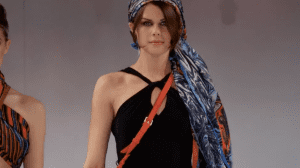 Bath has long since been a fashionable destination, a place to see and be seen. Video production. 
In 2016 the city continued to flex its stylish credentials and attract the international fashion pack who were lined up to share their style secrets and make Bath In Fashion 2016 a jam-packed affair.
Now in it's sixth year, the programme for Bath in Fashion showcased an eclectic mix of celebrated designers, influential editors, opinionated fashion writers and style pundits alongside behind-the-scenes creatives who discussed and debated, celebrated and championed the ever-changing, all-encompassing world of fashion.
Bath In Fashion 2016 welcomed a host of front row guests that included acclaimed New York designer Anna Sui, designer Roksanda Ilincic and Holly Fulton, renowned fashion critic Tim Blanks, super-blogger Susie Lau and London Fashion Week's latest catwalk sensation, Ed Marler.
Jooka were delighted to be invited back to provide film coverage of this year's festival. For more information on Bath video production, contact us at [email protected] or drop in to our studio at Glove Factory Studios, Holt, Wiltshire. We create video content for web & broadcast. Micro content for Instagram & Vine, motion graphics, stop motion, hyper-lapse & aerial footage.