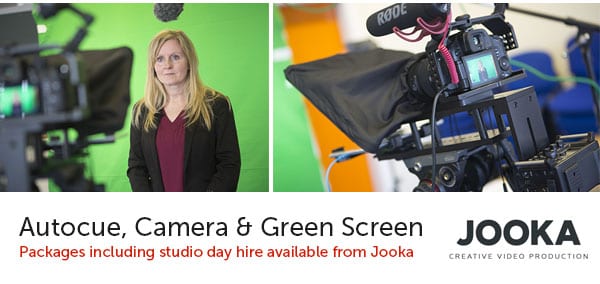 Whether you are looking to produce a training video, and informational video or perhaps a product video for Youtube, green screen filming technology can help you to meet the production values your business deserves.
The Jooka team is able to offer green screen filming and studio hire on a half day or full day hire rate, as well as being able to provide a professional presenter and camera operators. If you cannot make it over to our filming studio at Glove Factory Studios in Holt, Wiltshire, then we can bring it to your premises.
How does it work? The subject in placed against a background consisting of a single colour – typically green – because this colour is considered to be the furthest away from skin tone. The elements of the video that match the the green are then replaced by the alternate background video in post-production. This process allows any background to be placed behind the presented or product.
We've completed several projects where we've utilised green screen technology, including a series of training videos for Oasis UK in London and an overseas project for Ingenia4 in Madrid.
If you would like to find out more about how green screen technology can be used in video, feel free to contact us at [email protected]
Jooka produces micro content for Instagram & Vine, motion graphics, stop motion, hyper-lapse & aerial video content in Bristol, Bath, Wiltshire and London. For more information contact us at Studio 26, Glove Factory Studios, Holt, Bradford-on-Avon or email [email protected].