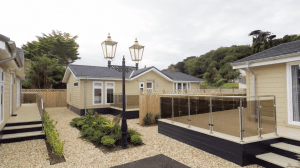 With video being so integral to digital marketing, estate agents are now able to bring the property market to buyers' fingertips using their digital channels. Jooka specialise in online video production.
A video walkthrough of a property can be as compelling as visiting the property in person – it allows the buyer to watch the video again and again rather than make a judgement about the property on the spot. Using video also comes with the added SEO benefits for the company's website too.
Quick Move Properties, the UK's largest property part-exchange company, commissioned Jooka to produce a video showcase of the Polzeath Surf Lodges, in North Cornwall. For the shoot, we brought in two professional actors, Barry and Jo and their talented four-legged friend Roxie.
We also sent our cameras up with a drone on the day to capture some creative aerial shots of the properties and give the video another dimension. If, like these properties, location is important then there's no better way to show off the location than from above.
The Jooka production team produced a script for the video, which was voiced by professional voiceover artist Adam Justice. Great job, Adam!